Sharing Harnessing Darkness with Actress Elizabeth Mitchell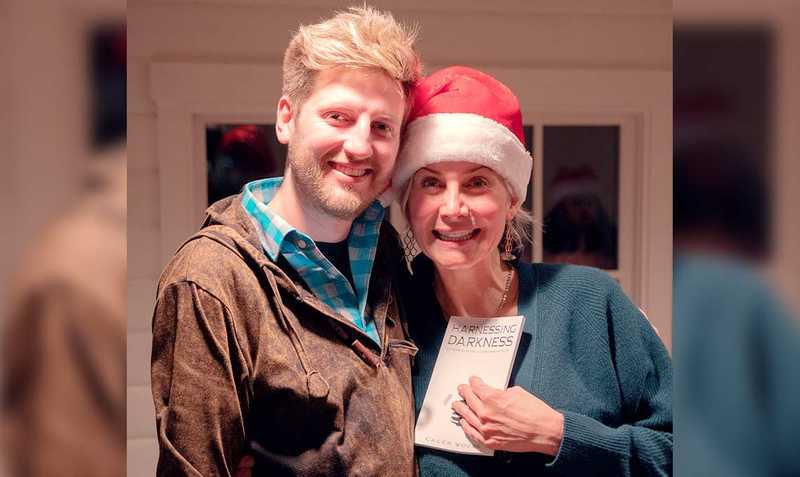 My life took a turn for the better this year when I had the privilege of spending time with actress Elizabeth Mitchell. You might recognize her from various film and television projects such as LOST, The Expanse, Once Upon A Time, The Santa Clauses, etc.
Most of you know my love for LOST and particularly the character of Juliet (portrayed by Elizabeth Mitchell). Not only has Liz portrayed my favorite fictional character, she has always been so supportive and kind to fans, as well as an ally to her LGBT fans.
In a twist of fate, I was able to spend a magical evening with Liz talking about our work and making s'mores around a campfire (a true LOST experience). It meant so much to me to share my story and gift her one of my books.
Needless to say, I thought this day would never happen. Inspirations come in all shapes and sizes. From people and songs to books and paintings, inspiration can be found everywhere. When you feel alone, anything can bring so much comfort. This is not something to be ashamed of.
Mrs. Claus cares about mental health. Do you? This holiday season, consider Harnessing Darkness as a stocking stuffer!
Whether you're a fan of Elizabeth Mitchell or you're interested in learning more about my personal struggles with mental illness, consider checking out the many reviews for my book. You can also hear more about my story here. You can find Harnessing Darkness in numerous places including:
Contact your local bookstores as well!